Service Manual For Surface Grinders
Nomenclature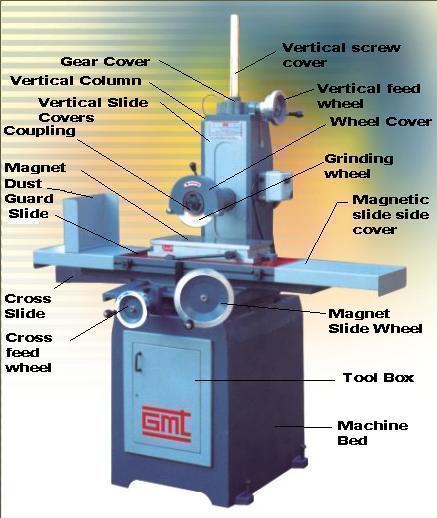 Installation & Service Instructions
(1) Place the machine on clean & horizontal leveled floor. Adjust the leveling screws to level the magnetic table using spirit level indicator.
(2) Remove the magnetic slide side cover & fill the oil (Shell 10 or equivalent) upto the level of 3 to 4 mm on flat slide ( Approx quantity of oil is 4 to 5 litres ).
(3) Make machine's electrical connections to the power supply & check the wheel rotation as indicated on wheel cover.
(4) Before starting the machine lubricate the slides & screws by pumping lubrication pump.
(5) Dress the grinding wheel, remove the wheel along with coupling from machine & balance the wheel on balancing stand & again mount the wheel on machine.
(6) Now your machine is ready for operation.


Trouble Shooting
(1) In case any taper is observed in work piece, check the magnet surface using dial indicator (within 0.01mm/ full length of magnet). If any surface damage or taper is observed, grind the table slowly & with light cuts (max 0.05 mm).

(2) In case vibration is observed, dress the wheel & balance it on balancing stand. Also check the spring tension of spindle after removing the wheel cover.

(3) In case of any uneven movement in vertical slide, remove the covers of vertical slides & clean with diesel or equivalent oil & lubricate properly.
Preventive Maintenance
Particulars

Daily

Monthly

Annually

Cleaning & Oiling

-

Check oil level in magnet slide

-

Oil level in lubrication pump (shell 20/40)

-

Cleaning of vertical slides by removing front & rear covers

-

Check the motor & spindle for any undue noise.

-

Greasing of Spindle

(if required call service engineer)

-

Grind the magnet surface

(very light cuts (max 0.05 mm)

-